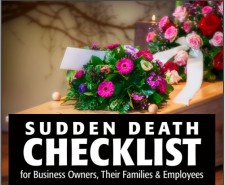 COVID-19 caught business owners by surprise in 2020. However, when a business owner passes away, his/her executor doesn't have to be surprised or overwhelmed with post-funeral tasks. Business succession consultant, Jack Veale, walks us through that stage of grief and transition.
HARTFORD, Conn., October 26, 2020 (Newswire.com) - ​The sudden death of a business owner has the potential of throwing both his/her family and business into chaos. Unfortunately, because of their age, many business owners across the nation are in the COVID-19 high-risk group, and sadly, some have succumbed to the disease. In addition to COVID-19, there are common causes of illness and death still at work.
In his most recent podcast, Jack Veale helps the executors and trustees of the business owner's estate understand their role and the tasks involved in the post-funeral stage of this challenging process.
There are hundreds of details that must be addressed in this post-funeral stage in coordination with family, advisors, and senior business employees.
Jack Veale said, "The post-funeral time is critical for both the business and the family. If there isn't a detailed plan and pre-arranged resources in place going into this stage, the family experiences more pain, and the business is put at risk."
A few of the dozens of subjects addressed in the fourth episode of the Sudden Death Checklist Podcast are:
· The business owner's wishes regarding the disposition of the company
· Access for the family and business to passwords and social media logins
· Considerations for long-time or mission-critical employees
· Will and trust documents
· Probate
· Estate and trust distributions
· Financial reporting and tax filings
· Outstanding claims, litigation, court filings
· Outstanding company debts and liabilities
This podcast covers the materials and comprehensive checklists found in Section 2, pages 10,11,12, and 14 of Jack Veale's Sudden Death Checklist workbook.
About the Sudden Death Checklist Workbook:
The workbook is intended to be used by business owners, trustees, and executors in conjunction with their key advisors (such as the family/corporate lawyers and wealth advisors) and their spouses/partners. It guides them in the process of working through the gathering the information that is required in the case of the business owner's sudden death.​
About Jack Veale
Jack Veale, CMC, is an internationally recognized consultant, who advises closely held, family-owned companies, including ESOPs, on business succession, ownership strategy, and leadership development. Jack uses many tools to assess the organization on culture, leadership, and operating performance. Over the last 25 plus years, Jack has assisted hundreds of companies in many industries and countries, offering solutions covering strategic planning, succession planning, corporate governance, team training, and crisis management.
Jack has authored or co-authored several books, including "Creating Strategic Innovation," "Don't Do That!" and "Sudden Death Checklist."
Contact the "Sudden Death Checklist" Launch Team at:
PTCFO, Inc.
48 Walkley Road, West Hartford, CT 06119-1345
Phone: 860.232.9858
Source: The Sudden Death Checklist
Share: