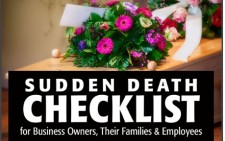 Jack Veale, a nationally recognized management consultant for privately held, family-owned and ESOP businesses, has released the Fourth Edition of The Sudden Death Checklist.
HARTFORD, Conn., April 15, 2020 (Newswire.com) - ​With tens of thousands of American business owners facing the grim realities and staggering numbers of COVID-19 illnesses and deaths, Jack Veale's Sudden Death Checklist allows business owners and their families to take control of what they can control.
The Sudden Death Checklist process is intended to lower the stress and confusion surrounding COVID-19 critical illness and the death of a business owner. Veale's workbook addresses questions that must be considered by the survivors before, during, and after the funeral process. Some questions included in the checklist are:
Who to call first immediately after a loved one's death?

Who is going to be the executor or trustee? Are they trained and prepared?

What funeral home will be used?

Who is going to monitor the house against thieves during the funeral and other times?

What about prescriptions at the pharmacy?

What about the funeral and probate costs?

How many death certificates will be needed?
Answering questions like these (and hundreds of others) ahead of one's passing can help prepare a family to handle a turbulent time with a feeling of calm and control.
A Sudden Death Checklist for Each Role in an Estate
There are three different, but related, Sudden Death Checklist workbooks available from SuddenDeathChecklist.com.
Jack Veale said, "In this uncertain time caused by the virus, it's essential for family members and spouses to be able to seize control of those hundreds of little details surrounding the death and estate of their loved one."
The Sudden Death Checklist is geared toward business owners and is divided into ten helpful sections:
Overview, Process, and Key Contacts

Checklists

Funeral Process for Owner

Funeral Process for Spouse/Partner

Wills Trusts, and Important Documents

Money, Finances, and Physical Assets

Regarding the Owner's Company

Sample Documents or Notes

Personal Document Folders

Financial Documents
Jack Veale noted, "It's important to include all the stakeholders in the process of making end-of-life decisions…advisors, family, and business associates all need to know what your wishes are well ahead of time. The sudden deaths of business owners Aretha Franklin and Prince (who had no will or estate plan) illustrate the emotional stress and huge legal costs that stunned their surviving family for years following their passing!"
About PTCFO Inc., Publisher of The Sudden Death Checklist
We are seasoned Management Advisors specializing in areas of Strategic Planning, Mentoring & Succession Planning, Corporate Governance Effectiveness & Board Formation Services, Management Development, Retreats, Credit & Equity Financing, as well as providing Interim or Crisis Management services for Privately Held or Family Businesses (including ESOP's & Non-Profits).
Contact:
PTCFO, Inc.
48 Walkley Road,
West Hartford, CT
06119-1345
phone: 860.232.9858
fax: 860.232.9438
Source: PTCFO Inc.
Share: